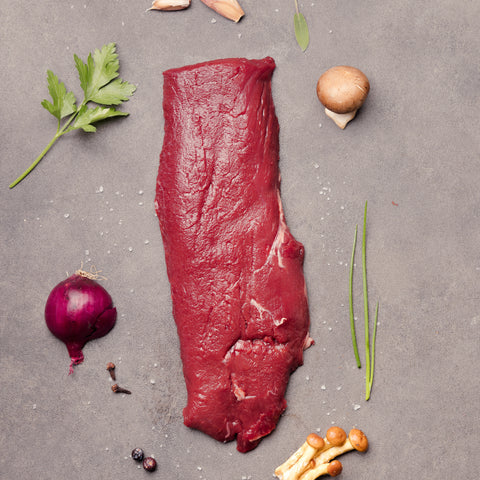 De Predetariër
Deer loin fillet ready to cook
Discover the wild side of the kitchen with our delicious deer loin fillet. This delicacy comes from wild deer and has a unique taste and texture.
Our deer loin fillet is tender and juicy with a rich, intense flavor. The meat is lean and contains little fat. The fillet is perfect for grilling or frying and can be served with a range of side dishes.
Combine it with potatoes, mushrooms and roasted vegetables for a classic and flavorful meal. Or try it in an Oriental preparation or with a salsa such as chimichurri.
Our deer loin fillet has been treated and processed with care to ensure that it retains its authentic taste and texture. It has already been completely stripped of membranes, which makes processing very simple. Try it today and enjoy this beautiful piece of wildlife responsibly.
Packed per:
approximately 400 grams
<text>
Shelf life:
Store at a maximum of 7°C: 5 days.
Can be stored below <-18°C until the best before date stated on the packaging.
Perishable after opening
Always trust your senses, you will notice what is not right. We strive for the highest quality, but if this is not possible, please contact us.
Delivery:
All our animal products are delivered frozen. We do this to prevent loss. Throwing away food is a mortal sin for us. Don't worry, it doesn't affect the quality.


Wildfond
Onze wildfond geeft stoven en sauzen een smaak die je alleen in top restaurants ziet. De fond is gemaakt van de botten van hert en ree wat samen met kruiden en groente een fantastische smaak geeft aan al je gerechten.
Gebruik de fond als basis voor al je sauzen en stoofpotjes, gegarandeerd succes.
Verpakt per 250 ml