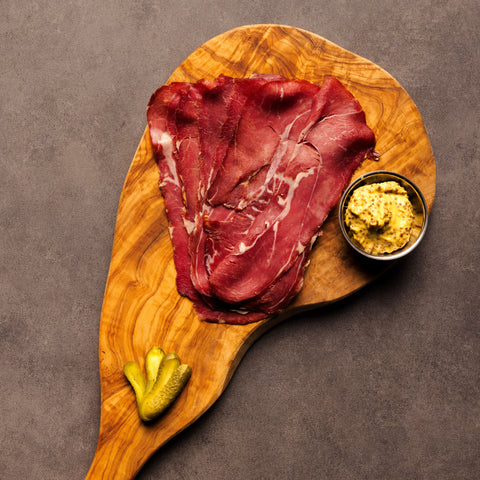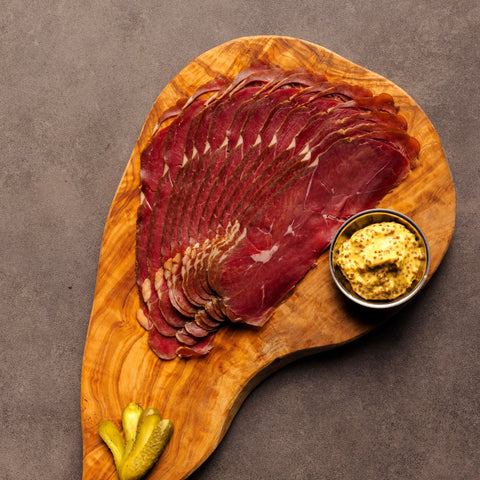 De Predetariër
Wild Prosciutto
Our proscuttio is made by salting the meat and then allowing it to air dry. This draws the moisture out of the meat and concentrates all the wonderful flavors in a delicious ham.

We have three varieties, roe, deer and wild boar and they are all divine.
Make a sandwich with them, put them on the snack board or fry them like an intense bacon. Everything is possible and incredibly tasty.
Shelf life:
Store at a maximum of 7°C: 14 days.
Can be stored below <-18°C until the best before date stated on the packaging.
Perishable after opening
Always trust your senses, you will notice what is not right. We strive for the highest quality, but if this is not possible, please contact us.
Delivery:
All our animal products are delivered frozen. We do this to prevent loss. Throwing away food is a mortal sin for us. Don't worry, it doesn't affect the quality.
Wildfond
Onze wildfond geeft stoven en sauzen een smaak die je alleen in top restaurants ziet. De fond is gemaakt van de botten van hert en ree wat samen met kruiden en groente een fantastische smaak geeft aan al je gerechten.
Gebruik de fond als basis voor al je sauzen en stoofpotjes, gegarandeerd succes.
Verpakt per 250 ml